Manu Lanvin
Roster / Marc Smeesters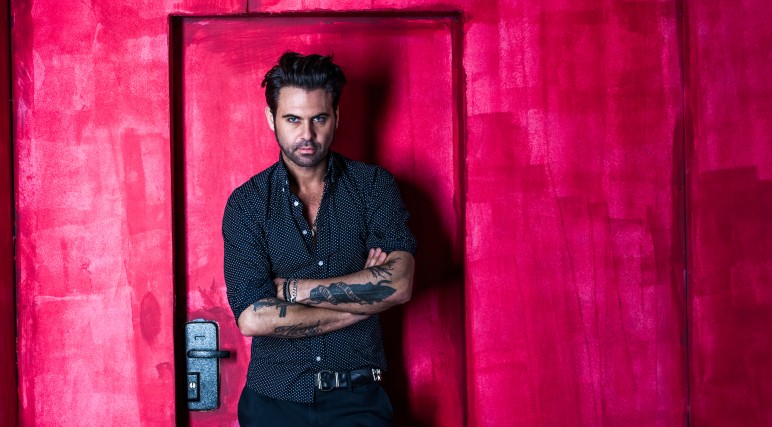 Album : GRAND CASINO ( Veryshow / Warner)

After three rock solo albums produced between 2000 and 2006 (« VENIR AU MONDE » « LES TEMPS MAUVAIS » et « FAIBLE HUMAIN ») Manu Lanvin finally found his most natural way with the « Devil Blues », a power trio that perfectly suits him.

There is no doubt his collaboration with famous Texan musician Calvin Russell, for whom he co-wrote and produced in 2009 his parting album « Dawg Eat Dawg », was a start in this new direction. This radical change was rather clever as since the release of his fourth album "MAUVAIS CASTING" in 2012, opportunities have come one after the other for our national French bluesman.

One hundred and twenty gigs in 2013 in prestigious venues in Europe and in the United States (L'Olympia, Apollo Theater, Montreux Jazz Festival, Cahors Blues Festival, Cognac Blues Passion, …), an invitation from Claude Nobs and Quincy Jones to perform in New-York for the Jazz Foundation of America's Charities, a selection to represent France in Memphis (TN) at the IBC (International Blues Challenge in Memphis) in 2014 and the Cognac Passions Prize won in July 2015. During his intense tour, Manu will get enough time to record the brilliant « SON(S) OF THE BLUES » which flows from the coarse voice and vibrant guitars, and keeps from the United States the Southern heritage in general and the Highway 61 in particular.
On November 13, 2015, Paris and in the Bataclan went trough a terrorist attack. French youth, freedom and the world of entertainment are targeted, the whole world is overwhelmed. "If Gods are here to kill, then I prefer to be the Devil because mine does not kill no one, mine preaches peace and love through music, blues and rock 'n' roll" says Manu who got a tattoo of the devil in his back. A strong image shot by the photographer Eric Martin who will become the cover album of « BLUES, BOOZE AND ROCK 'N' ROLL » released in September 2016.

« BLUES, BOOZE AND ROCK 'N' ROLL » is undoubtedly the album of maturity for Manu and will earn him the praise of the musical press and the recognition of professional medias; the album is selected as "Best Album of the Year" by Le Parisien, his live performance is selected as one of the best performances of the year by Rock & Folk Magazine, and Manu is nominated as "Best Male Performer" by French Cristal Globes in 2017. A blues artist finally appears among the great names of the french scene.

Acclaimed by an ever increasing fan base an acknowledged by his peers such as Paul Personne who sits regularly on stage with him or Johnny Hallyday who invites him to open his shows Manu perfectly suits the disillusioned Bluesman's costume who sings the low blows of life, but also at the same time an optimistic rocker who preaches the « devil's music » for a better world.
In the middle of his 2017 tour, Manu made a three-day stop at 4A Sound Factory, a recording studio located in Normandy, to record a few covers. The 3 days will soon become 13 days, during which Manu, surrounded by his favorite musicians, Jimi Montout (on drums), Nicolas Belanger (on bass), Diabolo (on the harmonica), Mike Latrell (on keyboards ) and Jérémy Lacoste (on slide guitar), is embarking on the production of a new album composed of some great classic blues tunes revisited but also original songs, all recorded live in this beautiful vintage recording studio. The result is « GRAND CASINO », a pure album of Blues 'n' Roll where you can also discover and enjoy some featuring and duets with prestigious friends such as Taj Mahal, Beverly Jo Scott, Johnny Gallagher and Popa Chubby who have accepted the Devil's invitation…