Atomic Spliff
Roster / Marc Smeesters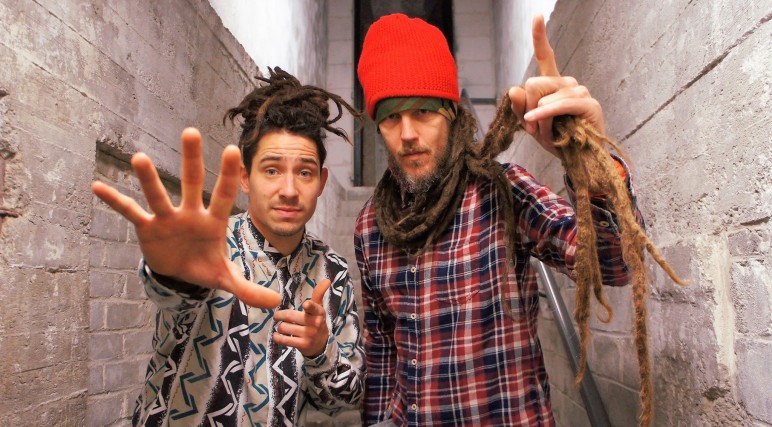 New Rocksteady vibes for the succession of belgian reggae!

Atomic Spliff is a duo of young singers who form themselves with turntables by organizing soundsystem evenings and mash up the places with an overflowing energy.

Two years later Stoneman and Daddy Cookiz meet on some duos and decide to form a band. They release in 2013 the "PiratoMixtape". This mixtape begins with a sound of pirates, flowing acrobatics and melodies unstoppable, they want to create then a propaganda of humor and good vibes...

They came back in March 2015 with a new opus with resolutely rub'a'dub influences named "Ras Attack". Daddy Cookiz and Stoneman re-join the roots of the raggamuffin, while adding a digital tip and collaborating with the Jamaican artist P.Nyne, a young prodigy of the new roots scene, on the track: "Nous c'est Rub'a'Dub", With the Belgian veterans "Asham Band "for the brass section. Saxophone and trumpet accompany some rhythmic pieces of a good skank tinted with melodica.

Already in 2014, the band won the Reggae Contest Europe at the Rototom, and participated at the Redbull Bedroom Jam semi-finals in 2014. After the success of his album Ras Attack rewarded by the "Victories of the Reggae" in 2016, Atomic Spliff realizes a beautiful tour to the four corners of Europe with nearly 30 dates on the South West French. Those three last years, with more than 150 concerts, they made some support acts for a lot of great reggae artists like Naâman, Bigga Ranx, Sinsémillia, Big Red, Dj Vadim, Mad Professor, Joseph Cotton and a lot of shows including Dour (BE), Les Ardentes (BE), Esperanzah (BE), Couleur Café (BE), BSF (BE), Reggae Sun Ska Festival (FR), La Cigale (FR), Rototom (SP), One Love Festival (UK).

March 2017 sees the release of the new album « Robomuffin », the visual (made by Daddy Cookiz) says a lot...and the title suggests a new delirium of our duo with sharp flows.
Atomic Spliff likes to make us discover a new style for ears that have been too long popularized by reggae ! They return to us here with a new album colored by multiple influences: back to the 60s with a bit of Rock Steady influenced an urban hip-hop touch for the single « Rock and Steady »! The various tours in France gave the group inspiration for new collaborations, among other things a 100% digital track with the young singer LMK who brings a touch of femininity well assumed on the featuring "Gal Inna the Dance", as well as the Title "Plus Haut" with the young urban poet Mardjenal!

Robomuffin also contains lighter and more dynamic tracks that will make you dance this summer with "Mr Postman" and "Train To Zion" and also a return to more spiritual or more committed titles like "Pas Assez". On this track you will be submerged by a melody with piano accents. This melancholy rhythm denounces the lure of the gain that makes the human pass behind the profit. On some tracks of the album, one finds a work of writing which puts down conscious texts in a tone more serious than usual.

Robomuffin is a very varied album that goes from rock steady to hip-hop, while the heavy bass is made to sound on sounds more rubadub or digital at other times... In a few years Atomic Spliff has not stopped climbing and imposing themself as the new generation of Belgian reggae. We are delighted to discover what they have concocted us for 2017-2018 and to share the good vibes with them!